Innovative Research
Innovations are the key to success. Hence VLB invests a large share of its resources in research. As well as having a close co-operation with Technische Universität Berlin, collective and contract-oriented research plays an important role. In addition our experts are deeply involved in the working groups of international organizations like EBC, MEBAK, ASBC, CNIFFI, DLG etc.
Our projects are financially supported by different public institutions such as the Federal Ministry of Economics Affairs and Climate Actions with its different boards and associations like "Otto von Guericke" (AiF), EuroNorm science funding committee of the German Brewing Industry or the European Commission. Additional support comes from private institutions and also not least from the VLB's membership fees. VLB is also founding member of the German Zuse Gemeinschaft. In addition to this, many industry clients co-operate with VLB – also in international projects.
VLB's research institutes cover the entire value-added chain of the brewing industry – from raw materials to logistics. Our interdisciplinary approach enables us to develop solutions with a high practical relevance.
Our research institutes work in the following areas:
Beer and beverage production
Raw materials (brewery)
Biotechnology and water
Instrumental beer and beverage analysis
Spirits, analytical technology and sensory analysis
Management and logistics
Last, but not least, the results of our research work contribute to the development of innovative services and high-quality training courses and are thus available to the whole industry.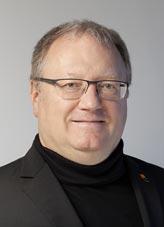 Management
Gerhard Andreas Schreiber
Managing Director (CFO)