VLB back at international trade fairs and congresses
After a long, involuntary break, things finally got going again: VLB teams took part in international trade events in the USA, India, Brazil and Spain.
Craft Brewers Conference, USA
At the beginning of May, a visit to the leading conference and trade show for the craft beer industry in the USA was on the agenda, which attracted around 10,000 participants to Minneapolis (Minnesota, MN). On site at the VLB booth at BrewExpo America were Roberto Biurrun, Jan Biering and Christopher Bergthold. Jan Biering also gave a presentation in the conference program on recipe development for non-alcoholic beers.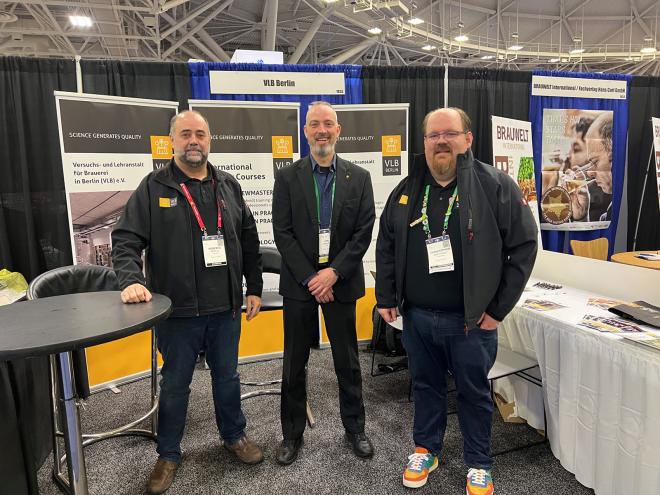 Craft Brewers Conference 2022: Roberto Biurrun, Chris Bergthold, Jan Biering
Brew World Conclave 2022, India
In Bangalore, the Brew World Conclave trade show was the meeting place for the Indian brewing scene in May. Jan Biering and Gayatri Metha from VLB were on-site, conducting a workshop on beer sensory and  served the VLB booth at the expo.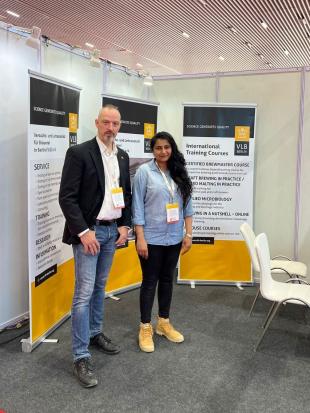 Brewer Conclave Bangalore - Jan Biering und Gayatri Metha 
EBC Congress / Brewers Forum 2022, Spain
This year's largest trade congress for the brewing industry in Europe to date took place in Madrid from May 29 to June 2 with around 1000 visitors from the international brewing sector. VLB was represented by Nils Rettberg (lecture), Scott Lafontaine (poster), Florian Schrickel (2 lectures), Christian Schubert (poster) and Olaf Hendel (PR). Also represented in Madrid with talks and posters were our colleagues from the Department of Brewing Science at the TU Berlin under the leadership of Prof. Brian Gibson.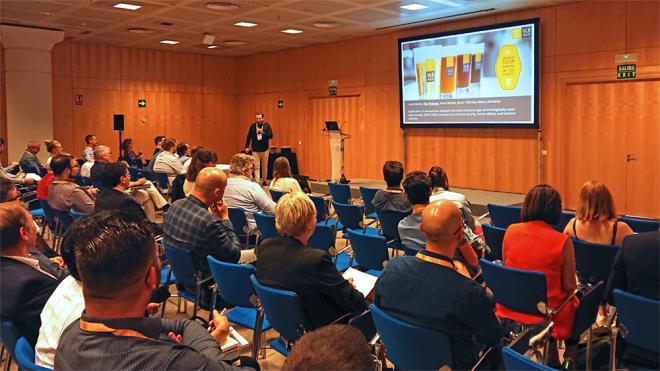 EBC Congress 2022 - Nils Rettberg
Brasil Brau 2022, Brazil
Almost simultaneously with Madrid, the Brasil Brau trade show was held in São Paulo from May 30 to June 1. The VLB booth on site was managed by Roberto Biurrun and Marina Witt. Among other things, one focus was on the preparation and promotion of our 12th Ibero-American Symposium, which will take place in Uberlandia, Brazil, next November

Brasil Brau 2022 - Marina Witt + Roberto Biurrun
The next international trade fair dates on the VLB agenda are
Brew & Spirits Expo (July 6-7, 2022, Bangalore, India)
drinktec 2022 (September 12-16, Munich, Germany)
Hall A6, Booth 317
We are looking forward to meeting you there!
Impressions from 4 continents