VLB Covid-19 regualtions
Despite the spread of the Covid-19 virus, we are maintaining our business operations, but in some cases with restrictions.
As the operator of accredited laboratories and testing facilities to ensure compliance with legal requirements in the beverage industry as well as drinking and wastewater suppliers, the VLB is part of the critical infrastructure according to the Food Security and Prevention Act (ESVG).
In principle, the official regulations of the Berlin Senate Department concerning measures against the Corona pandemic in public buildings apply to the VLB. In particular, we refer to:
a minimum distance of 1.5 meters between persons must be maintained, also during break times
if the minimum distance cannot be safely maintained, a mouth-nose covering must be worn
for external persons, the 3G rule is always applied when entering our building
Persons with acute respiratory symptoms, i.e. signs of respiratory illness (unless a cold has been cleared up by a doctor, for example), are not allowed to enter the building.
For seminar and other events in our building, individual regulations apply, which will be communicated to the corresponding group of participants in advance.
Further details are regulated by our Hygiene Rules issued by the VLB management (current version of 5.11.2021).
The crisis team of the VLB continuously monitors and evaluates the current Covid-19 development in Germany and Europe and will take the official information and instructions from the responsible federal and state authorities into account.
This information page is continuously updated.
Contact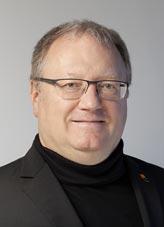 Management
Gerhard Andreas Schreiber
Managing Director (CFO)