Intermalt from Vietnam became new VLB member
The Vietnamese malting company Intermalt, based at the Port of Cai Mep in Ba Ria in the southern province of Vung Tau, became member of the international network of VLB Berlin in October 2019. The successful young company was founded in 2017 and has a production capacity of currently around 100 000 t of malt per year.
The VLB network in Vietnam is growing: after Sabeco and Saigon-Kien Giang Brewery (brand name KGB) had become VLB members, Intermalt followed in October 2019. Intermalt Vietnam (IMV), that belongs to the Interflour Group based in Singapore, opened its facility in July 2017 alongside the Cai Mep Port, about 80 km outside Ho Chi Minh City (Saigon). The 15.1 m deep harbor location gives Intermalt's supply chain control when importing barley from a variety of internatinal origins, such as the EU, Australia and Argentina. Equipped with modern technology it is the largest malting facility of its type in Southeast Asia and offers customers just in time deliveries via bulk, tanker and bags. The plant has a capacity of around 100 000 t per year and supplies around 20% of the Vietnamese market. It sends around 10% of the production to nearby markets in Southeast Asia.
On the occasion of the membership, VLB Managing Director Dr. Josef Fontaine and Markus Wildegans, Head of Customer Service at the VLB Research Institute for Raw Materials, awarded the VLB membership certificate to Hoang Trong Nghia and  master maltster Matthias Benz at BrauBeviale in November 2019. Fontaine was happy about the new member: "It is an honor for us to welcome Intermalt within the VLB family. I am pleased that our network in Asia is growing." Hoang Trong Nghia, Manager at Intermalt, appreciates the support of VLB: "Especially related to HACCP, training, advisory, QC and the good personal relationship, I hope our cooperation will be for long term."

VLB Berlin was involved in setting up the Intermalt laboratory in October 2016. Since then, a close cooperation between the two companies has been established, mainly in the fields of training and analysis. Training in this partnership means theoretical and practical implementation of malt analysis, especially in compliance with EBC and MEBAK standards. Technological advice relates to analytics and new methods.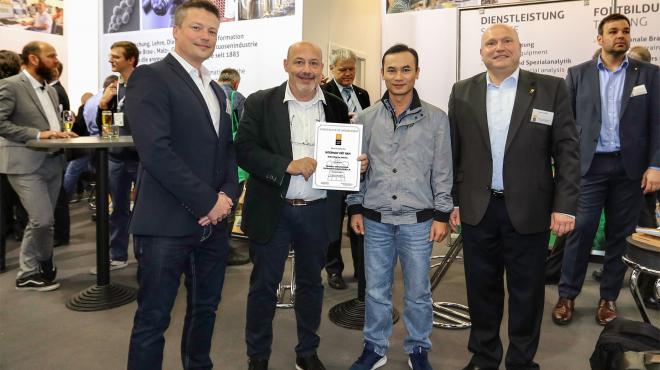 From left: Markus Wildegans (VLB), Matthias Benz and Hoang Trong Nghia (Intermalt),
Dr. Josef Fontaine, Managing Director VLB