Equatorial Coca-Cola's Brewery in Cape Verde (CERIS) new VLB member
Sociedade Caboverdiana de Cerveja e Refrigerantes (CERIS), a producer of beer, soft drinks and water in the Cape Verde Islands, is a new member of the VLB Berlin since August 2021.
The CERIS, a subsidiary of the Equatorial Coca-Cola Bottling Company (ECCBC), has been admitted as a new member of VLB Berlin. The Coca-Cola concessionaire ECCBC, with head office in Casablanca, Morocco, and founded in 1997, is currently present in 13 countries in North and West Africa and employs more than 3,000 people.  CERIS main site accommodates activities of bottling and commercialization of the ECCBC brands Bonaqua, Schweppes, Fanta, Sprite and Coca-Cola. CERIS beers are produced and marketed under the brands Ceris, Strela and Ego, as well as the malt beverages Actimalt and Vimto.
Luiz Ramos, Industrial Manager at Ceris and Gerard Chalons, Group Quality and Safety Manager of the ECCBC Group, describe the motivation for joining VLB Berlin as follows: "During the last three years, we have invested heavily in our brewery in Cape Verde to offer the best quality to our customers. In this sense, having the support of an expert association like VLB will reinforce our commitment to the quality of our business, as well as continuing innovating in the sector. In this aspect, VLB will provide training to our staff and consultancy in the manufacturing process and product quality. We wish it will be a long way to continue working to be the preferred and highest quality brand in Cape Verde", agree Mr. Ramos and Mr. Chalons. The VLB management is delighted about the new member: "We are pleased to welcome CERIS as another international member of our VLB family," says VLB Managing Director Dr. Josef Fontaine. "We are proud to be able to support CERIS in its future development." A first on-site consultation meeting was already held at the end of November 2021.
Cape Verde is an archipelago in the Central Atlantic. The ten islands lie 570 km off the West African coast, and the population is around 550,000. The official language of Cabo Verde, which has been an independent country since 1975, is Portuguese, and the colloquial language is Creole.
Equatorial Coca-Cola Bottling Company (ECCBC) is a bottling partner of The Coca-Cola Company across North and West Africa, where ECCBC teams produce, commercialize, and distribute high-quality beverages including Coca-Cola, Fanta and Sprite. The ECCBC project started in 1989 in Africa with the concession from The Coca-Cola Company to operate in Equatorial Guinea. Subsequently, other countries such as Guinea Conakry, Mauritania, Cape Verde, Guinea Bissau and The Gambia, joined the venture. ECCBC was founded in 1997 as a new company to combine the operations of all these countries. In the last two decades, ECCBC has expanded operations to Ghana, Morocco and Algeria, and today operates in 13 countries in Africa and employs more than 3,000 people. ECCBC participates alongside The Coca-Cola Foundation in sustainability projects that focus on environment, improving education, access to drinking water, health and entrepreneurial spirit.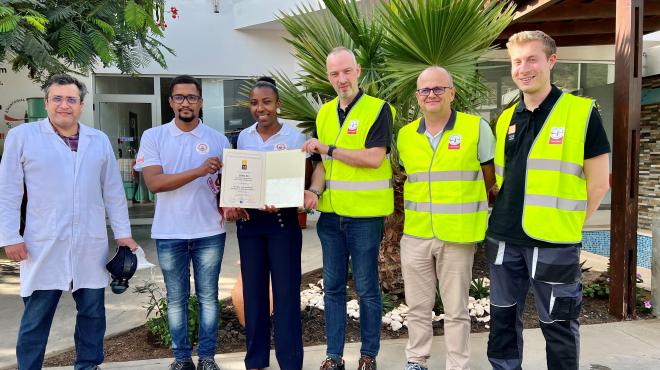 From Left to the right: Luiz Lima Santos (Ceris Industrial Manager), Evanildo Ortet (Quality Ceris Manager), Elisandra Simone (Ceris QHSE Manager), Jan Biering (VLB), Gerard Chalons (QHS ECCBC Manager), Florian Schrickel (VLB)