Hanuman Beverages from Cambodia is new member of VLB Berlin
Hanuman Beverages Co Ltd, a young and upcoming beverage company from Cambodia, has been a new member of the Versuchs- und Lehranstalt für Brauerei in Berlin (VLB) since January 2022.
Hanuman Beverages is based in Phnom Penh, the capital of Cambodia. With a total investment of US$ 160 million, the family-owned company began the construction of a new greenfield brewery on the outskirts of Phnom Penh in 2018. The first expansion stage, with a capacity of 1 million hl, went into operation in October 2021. A second expansion stage for up to 2 million hl beer is already being planned.
In line with the claim "Greatness in Every Drop", major importance was attached to state-of-the-art brewing and filling technology from Germany and the establishment of sustainable and environmentally compatible production. With more than 1000 new jobs, Hanuman also wants to contribute to the further economic growth in Cambodia. 
Sarsileap Khieu, owner and chairwoman of the Board of Hanuman Beverages, and CEO Chas Geschke have ambitious plans: "Cambodia is a country with a very young population that is developing rapidly. Our goal is to establish the Hanuman brand as a benchmark for the highest quality in the Cambodian beverage market." In doing so, the company aims to meet the increasing demands of customers with high-quality, innovative and environmentally friendly products: With state-of-the-art plant technology, the best raw materials, water recycling rates of 90 %, and largely no plastic packaging, Hanuman aims to become the first climate-positive brewery in Cambodia. 

VLB is pleased about the new cooperation: "It is a special honor for us to welcome Hanuman Beverages, another member from Southeast Asia, to our VLB family", says VLB Managing Director Dr. Josef Fontaine. "The company has a very ambitious and extremely professional approach. We are proud to be able to support Hanuman in its further development and looking forward to a fruitful cooperation!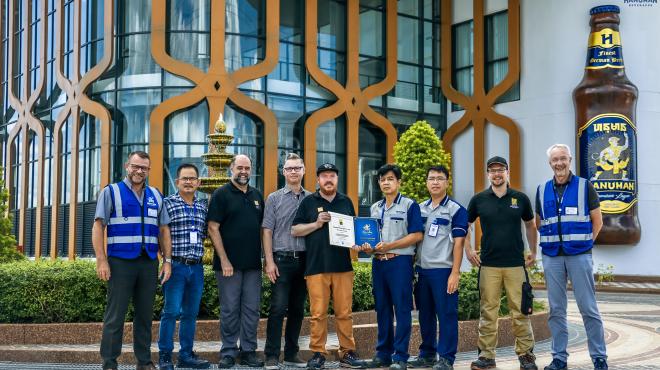 Handing over the VLB membership certificate in Phnom Penh in May 2022: Bernd Kirsch (Hanuman Brewmaster), co-worker Hanuman, Roberto Biurrun, Mick Holewa, Jan Fischer (all VLB), Mr. Vatanak (Brewing Manager), Visal Ty (Assistant Brewing Manager), Philipp Zeuschner (VLB) and Rolf Sanktjohanser (Plant Manager)