VLB graduates' gallery has found a new place
Since this autumn they have been hanging again: the portrait photo series of the graduates of the VLB brewmaster courses since 2006. The graduates' gallery comprises around 650 alumni from 21 completed courses. The action was financially supported by the Association of Former VLBers.
The photos with the portraits of all graduates of the VLB Certified Brewmaster Course since 2006 hung in the old VLB building in the Hövelhaus lecture hall until 2017. After the move to the new building, the pictures in DIN A1 format initially disappeared into the archive. Now they have found a worthy place on the ground floor of the new VLB building. In addition, the gallery has been supplemented with the photos of the graduates of the German-language brewmaster course, which has been held at the VLB again since 2019.
The older pictures were reprinted and the younger vintages freshly framed. In addition, a flexible rail system was installed for hanging. "This means we still have room for many more master classes in the future," says Jan Biering, second, executive chairman of the "Vereinigung ehem. VLBer" (VLB alumni association) and head of the German brewmaster course. Burghard Mayer, senior lecturer of the VLB Certified Brewmaster Courses since 2006, adds: "We would like to bind our alumni even closer to the VLB in the future and this gallery should be an expression of our solidarity and appreciation."
The VLB Certified Brewmaster Course is an English-language, 6-month full training course that was launched in 2006 as a successor and extension of the former "E2 Course" by Prof. Wackerbauer. Since then, more than 600 brewers from more than 60 nations have successfully completed this demanding advanced training. The German brewmaster course with graduation at the Berlin Chamber of Crafts has been back in the VLB programme since 2019. A total of 50 people took part in the first three courses, and the fourth course started this October with 21 participants.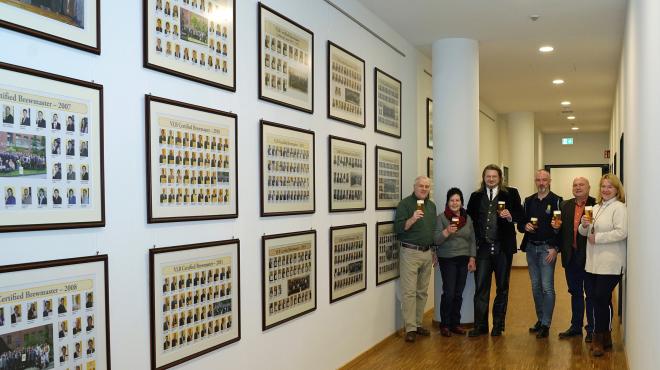 Kurt Marshall, Head of the VLB Study Brewery, Heike Flohr, Course Coordinator of the Certified Brewmaster Course, Burghard Meyer, Senior Lecturer of the Certified Brewmaster Course, Jan Biering, Head of the German Brewmaster Course, VLB Managing Director Dr. Josef Fontaine and Sibylle Young, future Course Coordinator of the Certified Brewmaster Course (l.t.r.) toast the opening of the Graduates' Gallery