VLB events and services during the Covid 19 crisis
Despite the spread of the Covid-19 virus, we are maintaining our business operations, but in some cases with restrictions. The current situation is as follows :
Laboratory operations
We maintain the operation of our service laboratories (analysis / testing of beer, beverage, spirits, raw materials, packaging), taking into account the legal requirements and taking all necessary precautionary measures for our staff and customers ---> our lab services
Shipping of laboratory equipment, yeasts, culture media and books
Incoming orders are being processed and send.
Accounting
Our accounting department currently works in the home office. This leads to longer processing times. We ask for your understanding!
Library
Our Axel-Simon Library and the Schultze-Berndt Library are in operation again, taking into account the current RKI hygiene rules.
Training courses at the VLB
According to the 4th SARS-CoV-2 containment regulation of the Berlin Senate of April 21, the ban on on-site training courses in the VLB building was withdrawn on April 22. As a result, training courses in our rooms are generally allowed in compliance with the RKI recommendations on infection protection. In ccase of our on-site training courses, our VLB internal hygiene regulations apply, e.g. mask requirement in the ground floor, distance control, personal hygiene, until further notice ---> overview training programs
VLB international conferences:
107th Brewing and Engineering Conference, March 9 to 11 , 2020, Leipzig, Germany: postponed to 26 to 28 October 2020 at the Westin Leipzig
Seminar Modern Brewing Technologies, March 24 to 26 2020, Moscow, Russia: cancelled, next date in 2021
6th BioProScale Symposium, March 30 to April 1, 2020, Berlin, Germany: cancelled and postponed to 29 to 31 March 2021
Workshop "Craft Brewing in Practice": will be conducted as a 10-day web-baes training from 14-25 September 2020 -> more information
2nd Africa Brewing Conference, 25 to 27 May 2020, Maputo, Mozambique: cancelled
107th VLB October Convention, October 12/13 , 2020, Berlin, Germany: is cancelled due to the postponement of the Brewing and Engineering Conference to October
11th Iberoamerican Symposium, 21 to 23 September 2020, Barcelona, Spain: cancelled
---> Event schedule
The crisis team of the VLB continuously monitors and evaluates the current Covid-19 development in Germany and Europe and will take the official information and instructions from the responsible federal and state authorities into account.
This information page is continuously updated.
Contact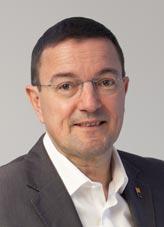 Head of Department
Olaf Hendel
Head of PR and Publishing Department