Compañía Cervecera de Nicaragua new VLB member
Compañía Cervecera de Nicaragua, Nicaraguas führender Hersteller und Vertriebshändler von Bier und Getränken, ist seit August 2021 neues Mitglied der Versuchs- und Lehranstalt für Brauerei in Berlin (VLB).
The Brewery Compañía Cervecera de Nicaragua S.A (CCN) was founded in 1926 in Managua, the capital of Nicaragua. The Brewery Industrial Cervecera, S.A. (ICSA) was founded in 1976. After a merger of the two companies in 1996, CCN became the largest brewery in Nicaragua. In 2002, the company acquired the mineral water producer Fuente Pura and entered additionally in the market for juices, soft drinks and isotonic beverages.
Today, CCN, which is majority-owned by Central American investors, is Nicaragua's market leader in beer and beverages. Total beer production in thia country, which currently has a population of 6.6 million, is around 1.4 million hl (2020). CCN produces various lager and pilsner beers for the domestic market under the umbrella brands Victoria, Toña and Mytos, which some of them are additionally exported to Costa Rica, El Salvador, Honduras, USA, Canada, Panama, Australia, Cuba and Spain.
The CCN headquarter with the brewery is still located in Managua, two additional bottling plants for mineral water are operated in the cities of Rivas and León. The total number of employees is 1135, and the total annual production volume of beer, water and soft drinks in 2020 was 2.89 million hl. CCN sees itself as a company that operates sustainable. It is characterized by its commitment to quality, safety, the environment, and health, which are firmly anchored in its corporate guidelines and in its comprehensive Sustainability Report.
Bernardo lzaguirre Pereira, Technical Director at Compañía Cervecera de Nicaragua, S. A., and graduated VLB Certified Brewmaster 2020, describes the motivation for joining VLB Berlin as follows: "We are continuously in the pursuit of adding value to our customers, employees and stakeholders, so VLB provides us state of the art in Brewing and Beverage Technology knowledge, training to our brewmasters, lab analysis and professional networking. "
VLB Berlin is proud to be able to support CCN in its future development: "We are very pleased to have acquired Compañía Cervecera de Nicaragua as another new member from Latin America in our VLB family," says VLB Managing Director Dr. Josef Fontaine. "The company is very ambitious and does excellent work."
Compañía Cervecera de Nicaragua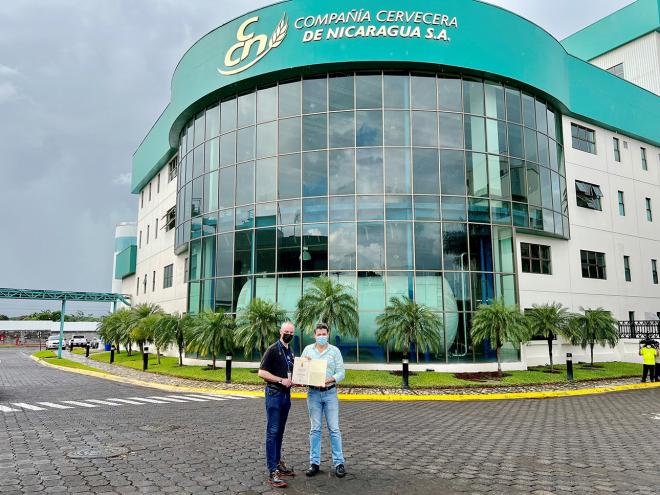 Jan Biering (l), Senior Consultant at VLB, hands over the Certificate of VLB Membership to Bernardo lzaguirre (r), CCN Technical Director, in Managua in October 2021