VLB Berlin and DuPont Team Up to Organize Africa Brewing Conference
VLB Berlin and DuPont Industrial Biosciences (DuPont) are coming together to establish a new conference devoted to sharing brewing knowledge, strengthening relationships and discussing best practices for the brewing and malting industry in Africa. The inaugural event will take place on 21 to 23 May 2019 in Addis Ababa, Ethiopia.
As joint organizers, VLB Berlin and DuPont aim to provide an open platform for world-class education and networking for the brewing industry in Africa. As a forum focused on the technical and scientific aspects of beermaking, the Africa Brewing Conference will bring together managers, brewers and leading technical staff from production, filling/packaging and quality assurance of breweries and maltings. The conference will be held in English, with topics covering the full supply chain of beer production, including raw materials, process optimization, sustainability, brewing technology, application of enzymes, product development and quality aspects.
"Africa is currently the region in the world with the fastest growth in the brewing industry, and Ethiopia is one of the top four beer producers with a lot of momentum," said Josef Fontaine, Ph.D., Managing Director of VLB Berlin. "With the support of DuPont and other companies, we are looking forward to establish a new platform for education and networking in this continent."
Allyson Fish, Global Business Director, Food Enzymes at DuPont adds: "DuPont has long seen Africa as an important region, where enzymes can further support that growth, allowing brewing companies – big and small – to become more efficient and able to source locally. We are proud to support this new conference as a major partner of VLB Berlin, and we hope that the Africa Brewing Conference will become an important forum for brewers across the region to come together and collaborate."
VLB Berlin and DuPont announced the collaboration at the BrauBeviale 2018 conference in Nuremberg, Germany. More details about location and timing of the Africa Brewing Conference will follow in the coming months. For regular updates, follow @DuPontBiobased on Twitter or check www.vlb-berlin.org/africa2019.
VLB Berlin is a world-renowned brewing technology institute that provides training, service and networking opportunities for brewers worldwide. Members include brewing operations large and small, and as part of their cross-learning & development focus, VLB organizes technical seminars and services across the globe.
DuPont is a leading supplier of brewing enzyme solutions, helping brewers around the world secure more consistent mashing, improve filtration and optimize the use of flexible raw materials. DuPont has long supplied enzymes across Africa, and collaborates closely with many brewers to tailor enzyme-solutions to particular regional needs.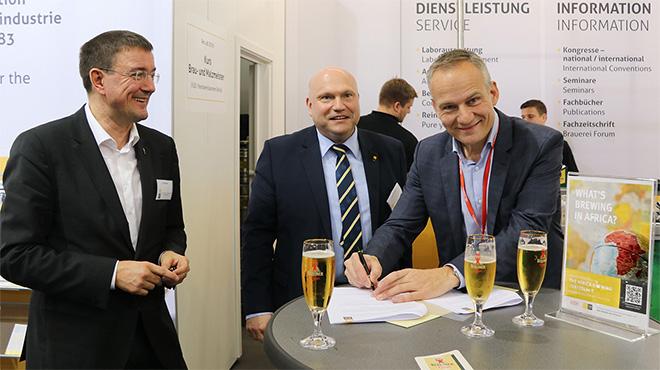 Jens Eiken, DuPont (r), is signing the cooperation agreement for the Africa Brewing Conference 2019 together with Josef Fontaine (m) and Olaf Hendel (l) on the VLB stand at the BrauBeviale in Nuremberg on November 13, 2018
Contact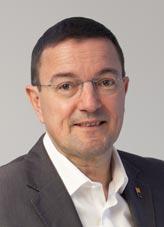 Head of Department
Olaf Hendel
Head of PR and Publishing Department