Roberto Biurrun leads international sales of VLB events
As of 1 July 2020, VLB Berlin has established an executive department responsible for sales and organization of international events and other services from the extensive VLB portfolio. This new position will be held by Roberto Biurrun (49), who also continues to coordinate the VLB services in Latin America, Spain, Portugal and Africa.
After joining VLB in 2015, Roberto Biurrun was part of the team of the VLB Research Institute for Beer and Beverage Production (FIBGP). He worked as a technological consultant and lecturer focusing on the Latin American markets. In addition, he has been in charge of the organization of the Iberoamerican Symposium "Brewing and Filling Technology" and the VLB conferences on the African continent.
As part of VLB's strategy and in response to the restrictions caused by the global COVID-19 pandemic, the portfolio in the event area is being significantly expanded. Important parts of the strategy are the conception and implementation of web-based conferences and the extension of virtual learning formats. All developments are based on VLB's long-term experience in conduction of education and training programs for brewers and employees of the beverage and distilling industries as well as international brewers' conferences.
"We are pleased to be able to further develop our event and training offers with Roberto Biurrun on an international level. Our aim is to convert future-oriented formats into a sustainable business model. I wish him good luck for his new task," comments VLB Managing Director Dr.-Ing. Josef Fontaine.
Contact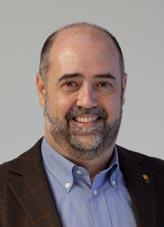 Research Associate
Roberto Biurrun
Executive International Sales Manager / Coordination Iberoamerica & Africa