The Yeast in the Brewery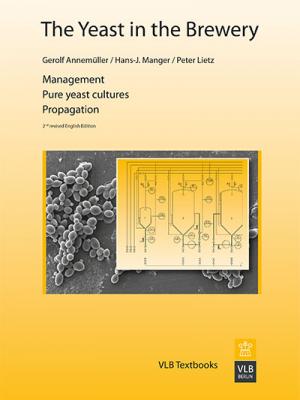 Autor
Gerolf Annemüller, Hans-J. Manger, Peter Lietz
Auflage
2. revised English Edition 2018, 464 pages, hardcover
About the book
The brewing yeast Saccharomyces cerevisiae var. is the most important microorganism for the production of beer. Beside the raw materials malt, hops and water the properties of the yeast infuence in a decisive way the quality of the end product beer and the productivity of the fermentation and maturation processes in the brewery.
 "The Yeast in the Brewery" is the English translation of a successful German publication written by Prof. Dr. Gerolf Annemüller und Dr. Hans-J. Manger. On 464 pages the book describes the fundamental technical aspects of the industrial application of brewing yeast in the brewing process.
This 2nd English edition has been updated and corrections have been made, along with the addition of supplemental information in several chapters.
From the content:
Some historical facts about the development of the pure yeast cultures
Why it is necessary to regenerate the pitching yeast and what are their demands in the brewery?
Important microbiological and biochemical fundamentals of the yeast multiplication and their significance for the pure yeast culture and for the yeast propagation
Machinery, equipment and plants for yeast pure culture and propagation
Yeast management in the brewery
Recovery of barm beer and alternatives of utilization of barm beer and surplus yeast