Tecnología para Cerveceros y Malteros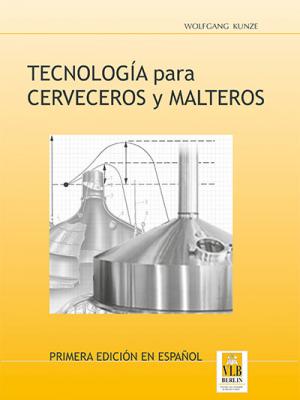 all prices incl. 5 % VAT (in EU),
plus shipping and handling
Auflage
1a edición en español, 2006, 1074 p.
El libro
Desde la primera edición en el año 1961, el libro "Technologie Brauer und Mälzer" (Tecnología para Cerveceros y Malteros), conocido en los círculos cerveceros simplemente como el "Kunze", acompaña  a muchísimos cerveceros y malteros en su camino hacia la práctica profesional y a través de ésta. Entre tanto ya se han vendido alrededor de 40000 ejemplares en alemán, 7000 en inglés y 2000 en ruso. A esto deben agregarse traducciones al chino, al polaco, al húngaro y al yugoslavo. Debido a su descripción clara y completa de todos los aspectos de la fabricación de malta y de cerveza, el libro "Technologie Brauer und Mälzer" se ha convertido en la obra de referencia. Con su forma de descripción orientada hacia la práctica en 1075 páginas y  850 ilustraciones, esta obra es una fuente única de conocimiento.

La primera edición en español
Luego de una revisión fundamental de la edición alemana en el año 1993 se publicó en 1996 "Technology Brewing and Malting", la primera edición internacional en inglés. Debido a la gran repercusión, se realizó una reimpresión ya en el año 1999. En el año 2004 se publicó la tercera edición de "Technology Brewing and Malting", la cual ha sido completamente actualizada. La edición en inglés es leída en Chile, Brasil y en las Bermudas, entre otros países. Pero frecuentemente también se nos ha solicitado de todo el mundo una edición en español. Esta obra de referencia ponerse la lectura de los cerveceros y malteros en Centro y Sudamérica, así como también en la Península Ibérica. Los expertos de habla portuguesa también leen en español. Con la traducción del "Kunze" a otro idioma universal se afirma su estatus como obra de consulta imprescindible para todos aquellos que se desempeñan profesionalmente (o también como cerveceros aficionados con ambiciones) con la cerveza. Debido a la revisión completa y las ampliaciones temáticas, la extensión de este libro técnico se ha incrementado de 700 a 1075 páginas.  La base de la 1a edición en español es la tercera edición en  inglés.

El autor
Wolfgang Kunze, nacido en 1926, es cervecero calificado y ha seguido estudios de Ingeniería Cervecera. Hoy en día se desempeña como colaborador independiente para el Instituto Cervecero de Investigación y Enseñanza en Berlín (VLB). Durante 38 años se desempeñó como docente y director de la Escuela de Cerveceros de Dresde e introdujo a generaciones de cerveceros y malteros en el arte de la fabricación de cerveza. Todos sus conocimientos técnicos y su experiencia didáctica volcados en su libro "Tecnología para Cerveceros y Malteros" han convertido a éste en más de 40 años en lo que es actualmente: una obra de referencia a nivel mundial.